Burton Baptist Church gladly presents its pastor Reverend  Jim Ankerberg.  Below is a quick summary of pastor Jim's background for your review.  We know this is only a glimpse of how God has blessed BBC through pastor Jim  so we invite and encourage you to come hear Rev. Jim for yourself.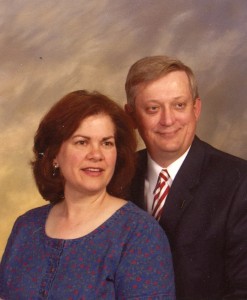 Jim and Marlene Ankerberg met at Bethel College and Seminary in St. Paul Minnesota while Jim was getting his Master of Divinity from Seminary and Marlene was getting her BA in Elementary Education from the college.  They were married while in school and then, a year and a half later graduated on the same day.
They have pastored in Ord, Nebraska; Solon, Ohio; Gladstone, Michigan and Rockford and Ensley, in West Michigan.
Pastor Jim has led a mission trip to Honduras.  He has worked on an Indian Reservation and in an inner city black church as a student missionary.  He was a volunteer Chaplin at Spectrum Hospital and a Community leader for National Day of Prayer.  He has been a truck driver, worked on the Sante Fe Railroad, and traveled Europe and the USA as a member of a male chorus.
Marlene is a Special Ed. Teacher in the Rockford School system.  They have four children, Trulie, married and living in Atlanta, GA, Melissa, married and living in Walker, MI, Josh, married, and living in Brooklyn, NY, whose twin brother, Joel died in 1997.  Pastor Jim and Marlene also have three grandchildren.
Be shepherds of God's flock that is under your care, serving others a overseers — not because you must, but because you are willing, as God wants you to be; not greedy for money, but eager to serve; not lording it over those entrusted to you, but being examples to the flock.  And when the Chief Shepherd appears, you will receive the crown of glory that will never fade away.   1 Peter 5:2-4
Let us draw near to God with a sincere heart in full assurance of faith, having our hearts sprinkled to cleanse us from a guilty conscience and having our bodies washed with pure water.  Let us hold unswervingly to the hope we profess, for he who promised is faithful.  And let us consider how we may spur one another on toward love and are in the habit of doing, but let us encourage one another — and all the more as you see the Day approaching.  Hebrews 10:22-25